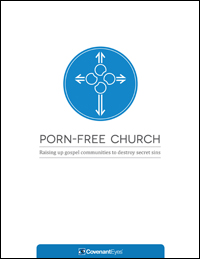 Pornography is prevalent everywhere today. In fact, one in eight online searches is for pornography. Because pornography thrives in secrecy, many members of your congregation may be trapped in a cycle of sin and shame, thinking that they're the only ones facing the temptation.
Download our free e-book, Porn-Free Church: Raising up gospel communities to destroy secret sins, to find out how you can help your congregation find freedom from porn in the Gospel. You'll learn:
How pornography is harming our churches.
How to talk about pornography to people in your church.
What the Bible says about accountability.
How to counsel men struggling with pornography.
How to move past large events and pancake breakfasts to create a culture of accountability in your church.
---
Read some sample chapters!
Want to read a few sample chapters before you get the full e-book? Here are two of our favorites:
Three of our chapters are also perfect as a starting point for a sermon series on lust and pornography. Click here to get "A Bird's Eye View of Lust and Pornography" (chapters 4, 7, and 9 of Porn-Free Church).
Get your copy of Porn-Free Church