"If you are under 40, and not on specific medications, and don't have a serious medical or psychological condition, your copulatory ED almost certainly arises from performance anxiety or Internet porn—or a combination of the two." –Gary Wilson, Founder of yourbrainonporn.com
What Is Porn-Induced Erectile Dysfunction? (PIED)
 The short answer is, "I watch a lot of porn and I can't maintain an erection during partnered sex." This includes (but is not limited to) the following list of symptoms:
Difficulty maintaining an erection when putting on a condom.
Losing an erection, the moment actual penetration occurs.
Difficulty reaching orgasm with a partner.
Decreasing penis sensitivity.
Needing to fantasize about your favorite porn to maintain erection during partnered sex.
Escalating to more extreme forms of pornography in order to maintain an erection during masturbation.
Depression, lack of libido, decrease in energy, overall lack of enthusiasm for daily tasks.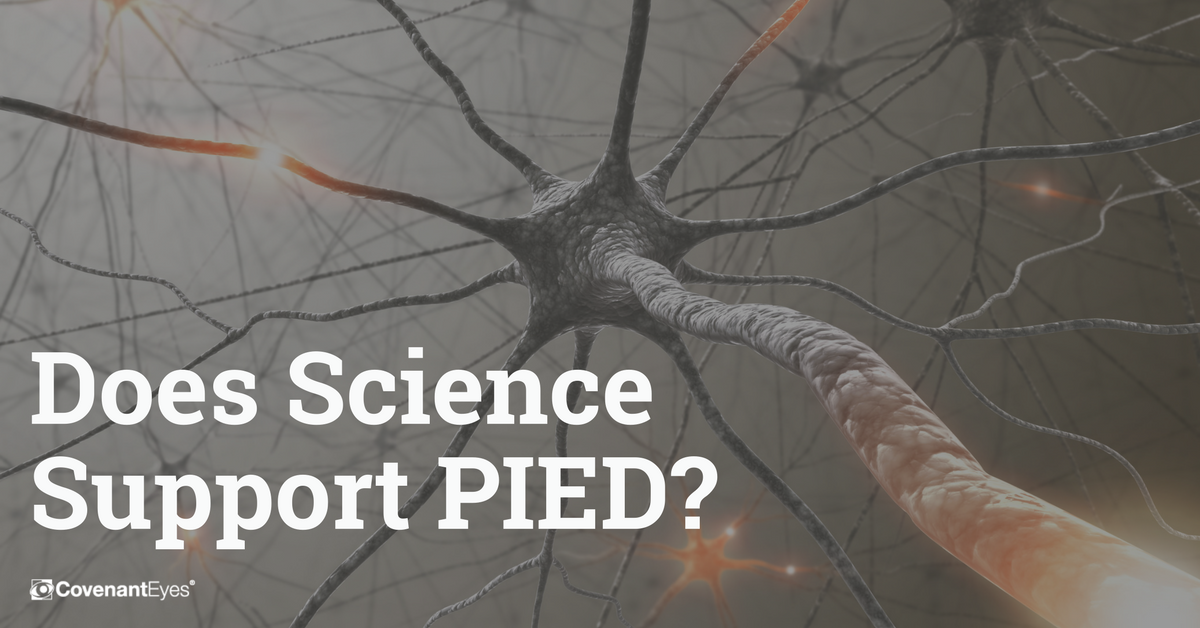 Recently, we asked people what they wanted to know about PIED in a resource. We received more than 800 suggestions from men and women, including:
"Why can I get hard and orgasm watching porn, but I can't get hard and orgasm with real sex with my wife?"
"My husband could not keep an erection, and it was very difficult for him to climax right from the beginning of our marriage. For the next six years our sex life suffered until he confessed that had been addicted to porn since he was very young."
"Is this condition reversible without medication? Will my abstinence from viewing porn allow my body to heal itself much like your organs when you stop smoking or alcohol?"
It's clear from these and other responses that watching porn impacts people and that they have a lot of questions about why this happens. Is there a correlation between porn and erectile dysfunction?
Why Does PIED Occur?
"In very laymen terms, whenever these young men are trying to have sex with a partner…their brain is saying 'What is this? I don't really know what's in front of me. I'm not used to this. This isn't a computer screen. It doesn't compute for me. I don't know what's going on.'"  –Alexander Rhodes, Founder of www.nofap.com
In order to understand what is happening between the legs, it's necessary to understand what is happening between the ears. After all, there's no such thing as an erection if the brain isn't telling the penis, "Hey, it's time to move!"
Neurons are cells that send and receive messages between the body and the brain. Stimuli from the outside world that are picked up by the body's senses elicit a neurological response, whereby neurotransmitters begin sending signals between the neurons, setting off a chain reaction of activity throughout the body.
Probably the best known neurotransmitter is dopamine. It's a critical player in a massive list of functions and conditions, ranging from Parkinson's Disease, the release of breast milk, psychosis, attention, nausea, kidney, and heart function.
But, dopamine's celebrity status is often attached to its role in motivation, addiction, and lust, as part of the mesolimbic pathway.
The theory behind PIED goes like this. Internet pornography from streaming online video sites is a supernormal stimulus, which means the brain's reward center is bombarded with an amped up version of a normal stimulus. Today's online, streaming porn floods the brain with rush after rush of on-demand, high levels of dopamine.
Drug addiction studies have shown that the repeated dopamine influx causes a decrease in D2 (dopamine) receptors. This is referred to as "desensitization," as the brain's reward circuitry fatigues from processing all of the dopamine and begins pruning away dopamine receptors in the same way you might cover your ears when someone next to you yells.
Although not proven, it's possible the same D2 pruning occurs in porn addicts.
As a result, in order to achieve the same neurological "high" as last week, more dopamine (ergo, more stimulation, often in the form of more extreme genres of porn) is required. Over time, this attachment to porn creates a neurological expectation that is vastly different from the "regular" (boring) human sexual experience.
And, according to Gary Wilson, "When expectations are not met, dopamine drops, and so do erections."
Or, as feminist author Naomi Wolf says, "Real, naked women are just bad porn."
The Brain and PIED: Porn Is a Supernormal Stimulus
The human brain responds to the world around us, using a complex network of 50-100 billion neurons to send electrical signals throughout the body. But, not all stimuli impact the brain equally.
What Is a Supernormal Stimulus?
The material for this segment/section has been provided by NoFap, a leading pornography addiction recovery organization.
Within the brain there is a cluster of neural structures called the "reward system." The reward system, true to its name, gives us neurochemical rewards for engaging in activities that are beneficial for our survival.
It is critical to humanity for us to survive and produce offspring with a mate. So, whenever people eat food or have sex, the reward system releases neurochemicals which provide feelings of pleasure. The person starts to associate the pleasure with the activity, and is thus encouraged to eat more food and have more sex in order to experience more feelings of pleasure.
The reward system doesn't just reward you. It also motivates you to do those things which are good for your survival. This motivation is mediated by the neurochemical called dopamine. Dopamine is released whenever your brain encounters a stimulus in the environment that it knows to be beneficial. Say you visit a friend and smell some delicious food cooking. Your brain releases dopamine, and you suddenly crave the food. Or say your partner has just treated you to a candlelit dinner, and has invited you to bed. Your brain releases dopamine, and you experience sexual desire.
How does the brain know which stimuli or activities are beneficial for your survival and which are not? The brain has a feedback system that allows it to learn about new stimuli and activities. This process is called sensitization.
In sensitization, the brain wires together sights, sounds, feelings, aromas, tastes, and even thoughts associated with a certain beneficial stimulus. It does this through the operation of a protein called DeltaFosB, which accumulates in the brain when dopamine is released. DeltaFosB correlates certain memories of beneficial stimuli with the environmental and mental contexts in which these stimuli appear. The brain thus "learns" to associate certain cues, such as the smell of hamburgers on the grill, with something good. When the brain encounters such cues in the future, it releases dopamine, encouraging you to interact with that stimulus again and again.
Though sensitization helps us survive by encouraging us to do those things that are good for our survival, it can also make us crave stimuli and activities which are detrimental to our health.
Pornography exploits one of the deepest desires that a human can experience and offers one of the most pleasurable natural rewards for engaging in it–an orgasm.
Today, pornography can provide its users with sexual hyper stimulation unlike anything their ancestors would have encountered. In the past, sexually attractive mates came in limited quantities throughout a person's life. Now with pornography, there is virtually endless novelty in not only different sexually attractive "mates," but also different angles, focuses, lighting tricks, makeup, airbrushing and editing–not to mention the impossible proportions and hyper-erotic situations available in animated porn.
Today's porn, available in virtually endless amounts, can goose the reward system beyond anything sex with a real person could provide. Through continual exposure, the brain can be conditioned to prefer pornography over sex with real people.
Are you ready to begin your recovery from PIED? We've designed a series of daily e-mails to encourage you on your way to PIED recovery. Start the RecoverED Challenge today.
What Do Doctors Say About PIED?
According to Dr. Mary Anne Layden, a psychotherapist and Director of Education at the Center for Cognitive Therapy at the University of Pennsylvania, this continual conditioning eventually rebuilds their sexual template—a pattern of thinking built by a repeated experience. She explains,
"Sexual arousal is very rewarding. So anything we hook to something that rewarding can become learned very easily. We've even found that, like with fetishes, if you show men pictures of women who are nude except for a high-heeled boot, they get sexually aroused by that image of that woman who's nude with a high-heeled boot on. Very quickly, if you just show them a high-heeled boot, they'll have an erection. Like, okay, that's not natural that you would get an erection to a boot. But, we can teach you to have an erection to a boot by just hooking it to a naked woman. So, when they look at pornography, all the things they see get hooked to sexual arousal and those all become a part of their sexual template."
So what does it mean when a man can get an erection from a shoe but not from his own partner? Layden explains,
"[Porn users] notice they can function fine as long as they're with a screen but they can't when they're with a person. Part of it is what they're learning from the pornography. They're learning to interact with women who are not physically natural. Many of the woman are surgically changed and men are thinking, 'Oh, this is what women should look like.' Well, most women don't look like that. So, now men get aroused for only surgically changed women, not to the real women in their lives."
Dr. Abraham Morgentaler, the Director of Men's Health Boston, Associate Clinical Professor of Urology at Harvard Medical School and Beth Israel Deaconess Medical Center, stated:
"I'm worried, I'm worried about the impact of porn on men and on women. I see young men coming in who are really confused about what normal is because all they know about sex is what they've seen on porn."
"Once upon a time in the Victorian age when women wore long gowns…it was considered to be really sexy when a man saw a turn of an ankle. That was enough for men to go and write sonnets and all of these other things. Then, we went through the mini-skirt phase in the 60s and all that and we talked about, the apocalypse is coming, and oh my God, this is so sexualized. Now we have it where everybody's got a computer or even a smart phone and you're on the Internet and can see whatever you want. There's no surprises…I think that the concern is, what porn has figured out is what really works for the brain of the guys. It's the maximum stimulus."
Dr. Dudley Danoff, MD, world-renowned urologist and founder of the Cedars-Sanai Medical Center Tower Urology Medical Group in Los Angeles, has observed a growing number of young men who speculate that their early viewing of streaming porn is the cause of their lack of sexual interest with their real-life partners. In a 2016 podcast with Diana Wiley, Ph.D., Dr. Danoff concludes that "porn is bad for sex."
"By watching porn 3-4 times/day, these men are creating a perfect recipe for erectile dysfunction. When young people are exposed to porn early in adolescence, they begin to ask, 'Is this the norm? Is this to be expected? Is this how I want my mate to act?' It [pornography] really is mind-distorting."
Conclusion: Does Science Support Porn as a Cause of Erectile Dysfunction?
The human brain is a complex, intricately constructed mechanism that's fine-tuned to preserve and perpetuate human life.
But, according to Gary Wilson, "Evolution has not prepared your brain for today's porn." In "Does Science Support Porn-Induced ED (Part 2)," we scrutinize the scientific studies that have been performed during the past two decades as we continue to explore the curious correlation between porn and erectile dysfunction.
Are you ready to begin your recovery from PIED? To help you on your journey, we've created RecovereED: 10 Days on the Road to Healing from Porn-Induced Erectile Dysfunction.
Start the RecoverED Challenge Today